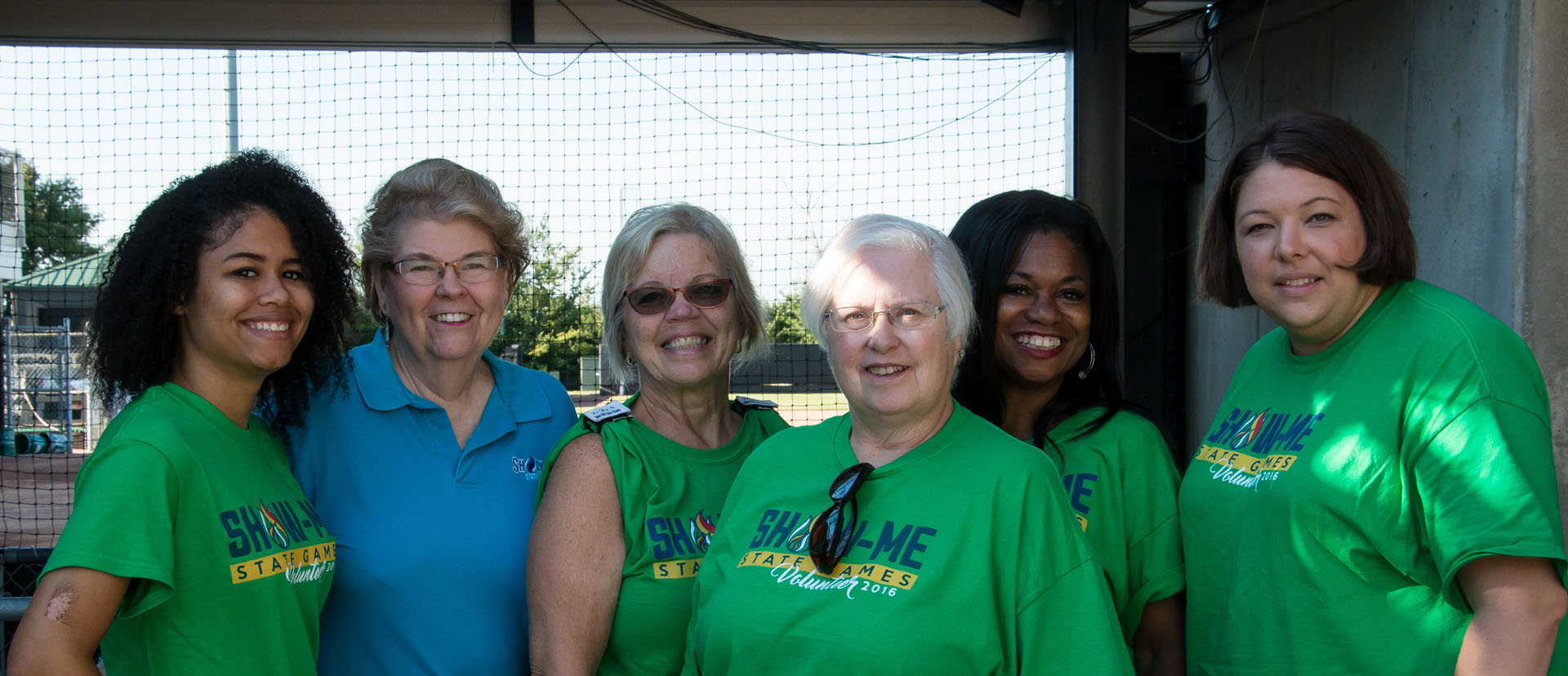 The Show-Me STATE GAMES are THE LARGEST STATE GAMES IN THE NATION
One key reason to our success as the largest games event is our outstanding volunteers who dedicate their time and energy in making the Games run so smoothly!
We anticipate thousands of athletes from across Missouri along with their families and friends to descend upon Columbia for the 38th Annual Show-Me STATE GAMES! Our participants are always impressed with the warm hospitality and strong sense of community spirit that Mid-Missouri has to offer. Our Volunteers help make Central Missouri a great place to host the Games.
Sign up to volunteer and enjoy the many activities that will that will be taking place during the Missouri Senior State Games (June 9-12) and the Show-Me STATE GAMES (July 22-24 and 29-31).
On behalf of everyone associated with the Show-Me STATE GAMES, please accept our heartfelt "THANK YOU" for the many, many hours you give during the three weekends of the GAMES. Your enthusiasm and courtesy provide a rewarding experience for all our athletes, their families and friends!
---
If you have 12 or more volunteers from your business or group (can also include family and friends), then be sure to take advantage of our Corporate Volunteer Program. This is a unique program that gives local businesses and organizations an opportunity to get involved in the Show-Me State Games. With 12 or more volunteers, we will print your corporate/group logo on the back of your group's T-Shirts. We invite you to share with us in the fun and competitive excitement only the GAMES can provide.
---
Thank you to State Farm for sponsoring the Volunteer Appreciation Banquet, TBA.
After the Show-Me State Games conclude, a Volunteer Appreciation Dinner is provided to all volunteers who helped make the Games a success. As a way to say thank you to our volunteers, we provide an evening of fun, including dinner and door prizes.
The Show-Me STATE GAMES Volunteer program is truly a success story unto itself and helps to define the commitment that the community of Columbia and central Missouri has for the Games.
---
If you have any questions regarding individual volunteering, group volunteering or your specific volunteer assignment, please reach out to the Show-Me State Games Volunteer Coordinator.
Jessie Sida
573.884.2946 |sidajl@missouri.edu
1400 Rock Quarry Rd, Entrance 5
Columbia, MO 65211
If you are unable to register online, you can also print a volunteer form and Fax (573-884-4004) or Mail (1400 Rock Quarry Center, Entrance 5, Columbia 65211) the completed form to our office.
If you are unable to print the form, please call the Show-Me State Games office at (573) 884-2946 to request a faxed or mailed Volunteer Registration Form.
---
Volunteer Committee Members
Steve Bohn, Kyndryl
Heather Brown, Harry S. Truman VA Hospital
Tania Cook, Jobpoint
Faye Cope
Zach Franklin, Columbia CVB
Maureen Dunbar
Aaro Froese, Boy Scouts of America
Laura Gerding, MEM
Silver Graham-Reed, State Farm Insurance
Melissa Korsmeyer, Department of Health and Senior Services
Eric Phelps, Shelter Insurance
Sheila Kausler, Columbia Public Schools
Marlowe Schlegel, Forum Christian Church
Jenny Workman, City of Columbia
Jason Young, University of Missouri-CAFNR
Please contact Jessie Sida if you're interested in joining the Volunteer Committee.